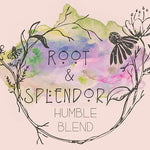 behind the name: root and splendor
Naming a company was just one of the many challenges I've faced since dreaming up a brand.  As in every area of my life, and as you'll soon learn about me, I give nearly everything I do a ton of thought.  So, to no surprise, I really wanted a name that had depth and meaning; I put a lot of pressure on myself to choose a name that would capture the essence, values and purpose of the brand.  When I decided on the name "Root and Splendor" I knew without a doubt that was the correct name.

A noun and a verb ...

Noun: 
By definition, the word "root" means the part of a plant that grows under the ground, through which the plant gets water and food.  The quality of the soil at the root of the plant will effect how that plant grows. At Root and Splendor, it is a face value of ours to formulate products that are non-toxic for our bodies.  Just as I wouldn't dump anything toxic in my garden on my plant roots that could damage the plant or its soil, I would never formulate products that would be toxic to the cell growth, organ function, skin sensitivities or any other parts of my body – or yours.  
This leads me to the word "splendor."  Splendor is the beautiful and impressive features of something. Taking care of our roots (our bodies) will result in this splendor and proper growth.  Taking care of our roots nourishes and feeds our bodies in the way that can lend to beautiful growth, aging, and protection.  
One of the pillars of the company is to always, I mean always, formulate with 100% natural, non-toxic and eco-friendly ingredients.  Safe for you., safe for the earth. I formulate to protect your roots. I formulate for your splendor.  
Verb:
Root and Splendor is also a verb, an action statement.  Root, as a verb, means to lend support to something, to dig or bring light to, to have as an origin.  If I can choose to root in the areas that lend itself to my growth for the wellbeing of myself and others I will experience splendor. Taking root in something has a direct correlation as to how I will splendor from it.  Cause and effect. 
For me, this is exemplified through the type of relationships I try to have with my husband and 3 boys, the way I spend my money, how I choose to spend my free time, the causes I am passionate about, my place in this world.  Where I choose to root has a direct impact on my splendor. Thus, Root and Splendor is a lifestyle brand as I know that each of my actions has an impact. My hope is that the areas I choose to water and nourish and protect will lend to not just my splendor, but splendor in the world around me, the people I encounter, and my place in this world.  
I invite you along on the Root and Splendor journey and encourage you to take hold of your roots to experience the splendor.